"Scrum" Agile System/Software Development Life Cycle Methodology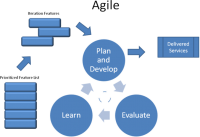 DVBE Partners resells COTS, MOTS, and custom systems integration using "Agile Scrum" Life Cycle Methodology.  We work closely with agency stakeholders to ensure that our applications meet or exceed the business needs of our customers.  DVBE Partners's goal is to allow our understanding and expertise in government technology to streamline your business' operation and process flow.
The many things we offer
DVBE Partners Business Relationships
Structured Staffing Methodologies The entire scope of the project duration is broken down into a set number of iterations (in this case, a standard work week = one iteration). Following the ...